02 MAY – 04 MAY 2020
GREEN MAGIC OPEN AIR 2020
@ MYOKO SUGINOHARA NIIGATA JAPAN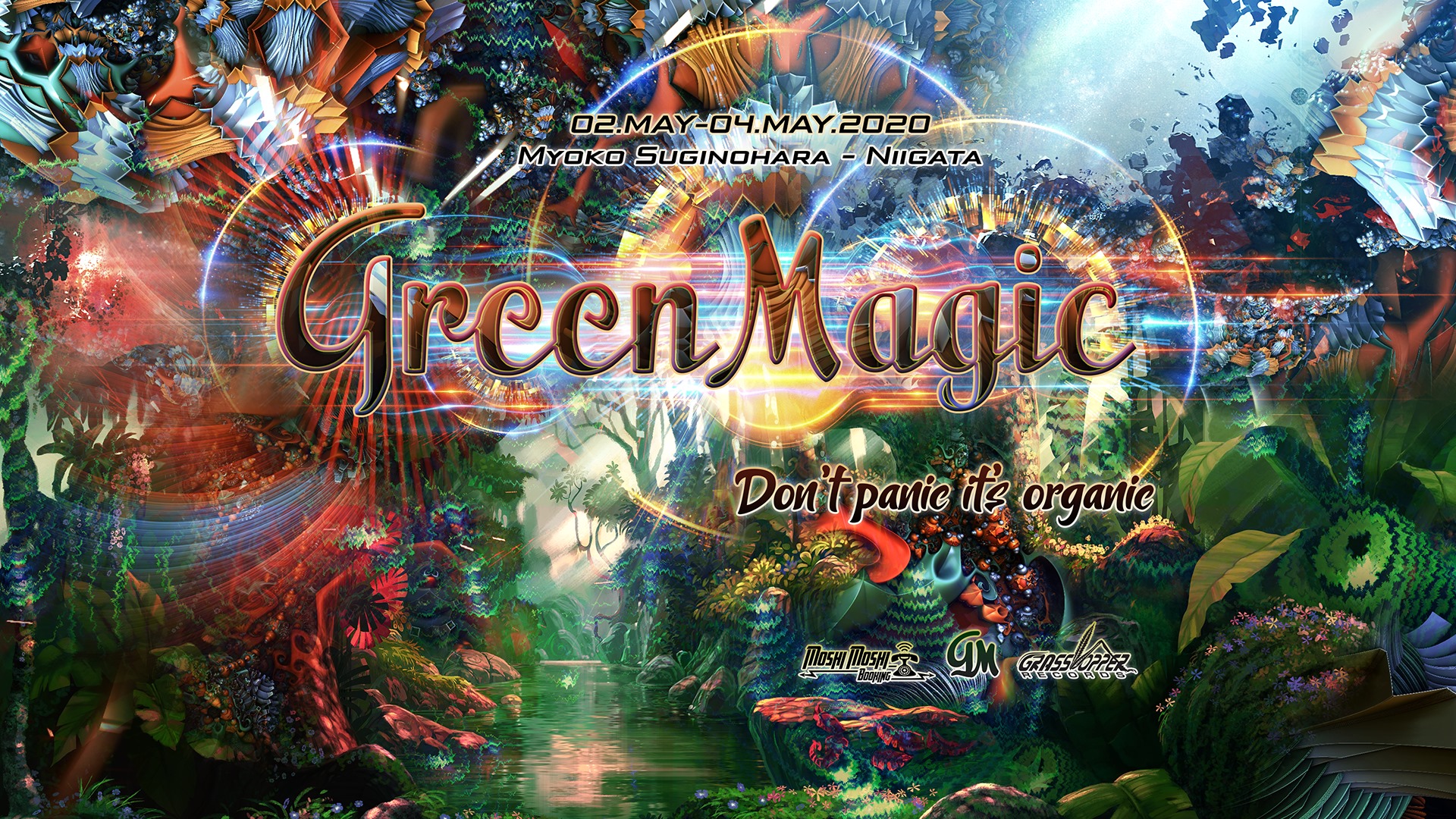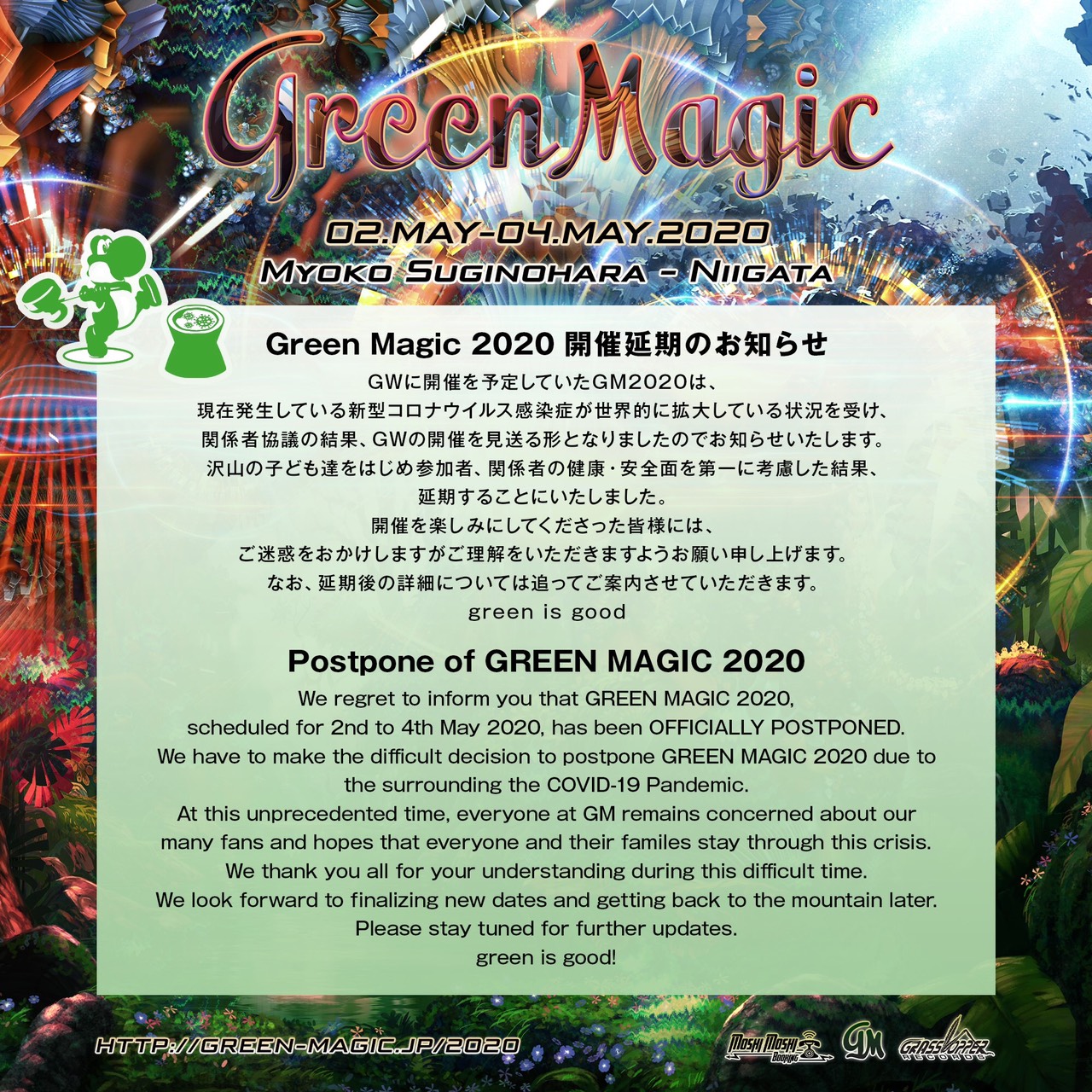 Green Magic 2020 開催延期のお知らせ
GWに開催を予定していたGM2020は、
現在発生している新型コロナウイルス感染症が世界的に拡大している状況を受け、
関係者協議の結果、GWの開催を見送る形となりましたのでお知らせいたします。
沢山の子ども達をはじめ参加者、関係者の健康・安全面を第一に考慮した結果、
延期することにいたしました。
開催を楽しみにしてくださった皆様には、
ご迷惑をおかけしますがご理解をいただきますようお願い申し上げます。
なお、延期後の詳細については追ってご案内させていただきます。
green is good
Postpone of GREEN MAGIC 2020
we regret to inform you that GREEN MAGIC 2020,
scheduled for 2nd to 4th May 2020, has been OFFICIALLY POSTPONED.
we have to make the difficult decision to postpone GREEN MAGIC 2020 due to
the surrounding the COVID-19 Pandemic.
At this unprecedented time, everyone at GN remains concerned about our
many fans and hopes that everyone and their families stay through this crisis.
We thank you all for your understanding during this difficult time.
We look forward to finalizing new dates and getting back to the mountain later.
Please stay tuned for further updates.
green in good!!
Green Magic 2020
Date:2020年5月2日~4日 (みどりの日)
Venue: 妙高 杉ノ原スキー場(https://www.princehotels.co.jp/ski/myoko/winter/)
Address: 新潟県妙高市大字杉野沢
Access by Car & Train : 詳細はこちら

▶Gate open : AM 10:00
Magic start : PM 02:00

▶▶ Entrance(当日券):¥15,000
Parking (駐車券) ¥1,000
※テントの設営/ 高校生以下のお子様は参加無料となります。

▶▶▶ 早割・前売りチケット申し込み : https://www.green-magic.jp/2020/
宿泊情報 : coming soon....

※イベント会場へのお問い合わせはご遠慮ください。
Tent set up / Children under 18 years old are free to participate.
Please refrain call to the venue.
Green Magic Open Air Party is B A C K!!!!
The Green Magic Open Air Party will be running after the recharging of one year.
This year, We invited around the world artists, domestic artists and DJs. We expect to be a "magical 3 days" with all.
We will announce about artists, tickets information on ours website, Facebook, Instagram and Twitter...etc.
Please follow us.
green is good !!!
Green Magicの野外パーティーが一年の充電期間を終えて2020年のオリンピックイヤーに開催します。
今年は会場を新たに妙高 杉ノ原スキー場にて、ゴールデンウィークの3日間に渡り世界中のトップアーティストや国内の精鋭アーティスト・DJ・演出・マーケット・クルーが一堂に集まり皆さまと共にシーズンの開幕をお祝いします。
出演アーティストやチケット等の詳細は随時こちらのイベントページや、GM WEB・Facebook・Instagram・Twitterなど各SNSにて発表しますので是非チェック・フォローをお願いします。
皆さまの沢山の笑顔を楽しみにご来場を心よりお待ちしております。
NOTICE
Please take your trash to home (with you).
Open fire is prohibited at the venue.
Please use fire base for BBQ.
Event will run even if it rains.
It is not possible to refund the ticket if there is bad weather and also in other circumstances.
Those that are prohibited by law and drunk driving or any introduction of hazardous materials will be prohibited into the venue.
If you lose your belongings, the organiser, venue, performer, is not responsible for any lost property.
Any person who cause a problem in the event may be asked to leave.
This is an outdoor event. Please look after yourself and bring appropriate attire to cater for the rapid changes in weather, such as hydration, warm clothes, etc.
Let's make a nice party with everyone by looking out for each other and please keep in mind the rules & manners.
The green magic is waiting for everyone.
We appreciate your cooperation.
Green is good!!!
ご来場の皆さまへのお願い
ご自分で出されたゴミは各自お持ち帰りください。
緊急を要する車と維持管理スタッフお車以外は場外へは出られません。皆様のご理解ご協力に感謝します。
近隣の住民の迷惑になる行為は絶対におやめください。
雨天決行です。悪天候 他事情でのチケットの払い戻しは出来ません。
会場内、直火は禁止です。焚火台の利用を必ずお願いします。※火元の側に消火用の水もご用意下さい。
テントサイトでは休まれている方のために、大声や楽器類・音響機器の持ち込みは禁止とさせて頂きます。
飲酒運転及び法律で禁止されているもの、危険物の持ち込みは禁止です。
ビン類の持込みは大変危険なため、ダンスフロアーへは別の容器に移していらしてください。
ご自身による紛失など、トラブルには主催者・会場・出演者は一切責任を負いません。
駐車場、会場内における盗難につきましては 上記同様に一切責任を負いませんのでご注意ください。
イベントでのマナーを守れない方、迷惑になる行為をされている方は退場して頂く場合があります。
ペット同伴でのご入場が可能です。その際ご家族の方で必ず責任を持ってお連れください。
野外イベントです。5月とはいえ山間部の急激な天候の変化に対応した服装や、水分補給をするなど各自で健康管理を行って下さい。
ルール・マナーをしっかり守って皆でナイスパーティーにしましょう。

皆様のご来場お待ちしております。
Green is good!!
LINE UP
GM BAR NIGHT DECKS
LIVE SETS
CYLONGrasshopper Records

GROOVEBOXGrasshopper Records

MIROKGrasshopper Records

PROHECHTGrasshopper Records

SPECTRA SONICSGrasshopper Records
DJ SETS
426hGreen Magic

AZUMAGrasshopper Records/Psyzensen

DISC JUNKEYGrasshopper Records

HATTAGrasshopper Records

HISAOtogi Records/Overdrive/Good Vibes

IRYGrasshopper Records

MOGReversible Records

MOTHERSHIPSeekers/Phar Psyde Records

TAKEOcculta Records/Sunshine Festival

YOHEITwenty Four Seven Records
GM KIDS SPACE
B KIDS
ACCESS
妙高 杉ノ原スキー場
〒949-2113 新潟県妙高市杉野沢